全球藝術項目"共享的危機"網絡展
蔡青策展
共享的危機也就是共同面對危險,在共同的處境下如何應對,正如我們曾有過的災難、戰爭、暴行、污染和飢餓。當下尤為明顯,全人類共同遭遇了Covid-19病毒感染的威脅。
"共享的危機"網絡藝術展,從9月11日開始,至11月11日結束。徵集每位藝術家九件新作品,旨在刺激藝術家具有挑戰性的進行創作,振奮麻木的心智。請逐一將作品在網絡上發表,毎發表一次作品提名一位藝術家,並@我(臉書或微信、微博),展示藝術作品的生成過程和延續性,同時也得到公眾的關注。 (作品發表標誌註明99"共享的危機")。
我們評委組中心成員是由著名藝術批評范曉楠、理論家、策展人丁雪峰、策展人庸獻(德國),行為藝術家薩子,行為藝術家、策展人蔡青(新加坡)組成,當我們對網上的作品討論、篩選後,會通知藝術家補充一張肖像和其代表作圖片及簡歷。
我們此項目最終的成果將是一本精製的雙語畫冊《共亨的危機》,隨後我們尋找實地展覽的機會。
收入畫冊中的藝術家會得到該畫冊的PDF檔。及贈送PDF《十天的行為藝術作品》和99微信《9天的行為-藝術家提名》。
———–
"99Sharing Crisis"
About Global Art Project
curated by Qing Cai
Our shared crisis is facing danger together and dealing with a common situation such as disaster, war, atrocities, pollution and hunger which are unfortunate parts of human existence. It is especially obvious now that all mankind is facing the threat of Covid-19 virus infection.
The "Sharing Crisis" network art exhibition starts now and ends on November 11. Nine new works from each artist will be collected, aiming to stimulate and challenge artistic creation and invigorate numbed minds. The works will be published on the Internet one by one, showing the generation process and continuity of the works of art, and at the same time, receive public attention.
The members of our judging panel center are composed of famous art critic Fan Xiaonan, theorist and curator Ding Xuefeng, curator Yong Xian (Germany), performance artist Sa Zi, and performance artist and curator Cai Qing (Singapore). After the discussion and selection of online works, the shortlisted artist will be notified to add a portrait and a picture of his representative work and resume.
The final result of our project will be a refined bilingual picture album "Sharing Crisis", and then we will look for opportunities for on-site exhibitions.
The artists included in the album will get a PDF file copy, with copies of the "Ten Days of Performance Art" and 99 WeChat "9 Days of Performance-Artist Nomination" PDF compilations included.
Qing Cai, 2020.9.15 NTU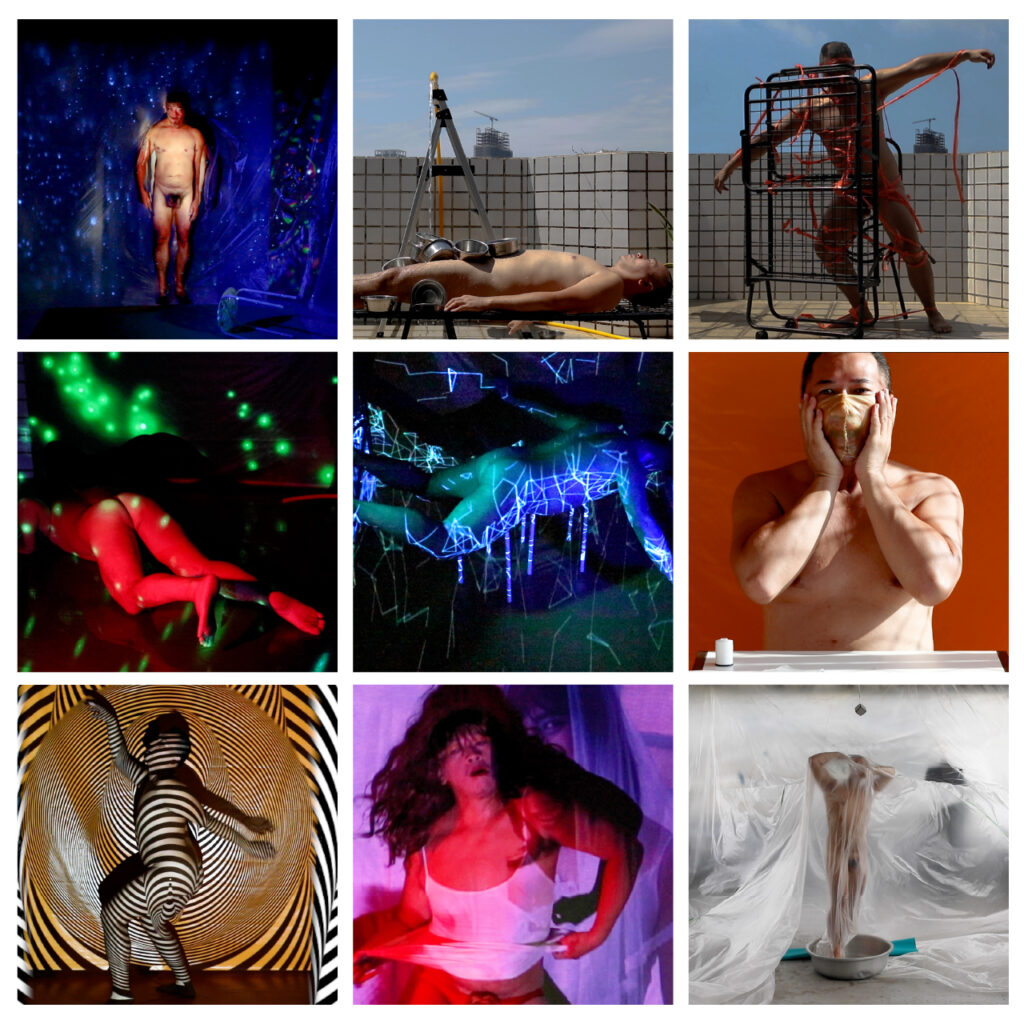 1. 天/身體詩III Celestial/Body Poem III
■完整影片連結/performance fim  https://youtu.be/7s8ArhMlA04
這是一個有關身體的作品,在網路時代,我們漸漸遺忘身體。身體其實與很多事物都有連結,這一個系列作品,是藝術家挖掘自己身體,像是考古學一般,一層一層的揭露其純粹的本質。我們身體與天體是一體。這個作品裡,夜晚般的場景、蟲鳴、自我身體的互相交融在一起。
This is a work about the body. In the Internet age, we gradually forget about our body. The body is actually connected to many things. In this series of works, the artist excavates his body, like archeology, revealing its pure essence layer by layer. Our body is one with the heavenly bodies. In this work, night-like scenes, insect sounds, and body blend together.
2.天/身體詩IV Celestial/Body Poem IV 
■完整影片連結/performance fim https://youtu.be/ua3rI7TgoV4
這個作品跟水、金屬物件有關,身體與物件交互影響,產生不可預期的各種狀態,一種詩意的探討。
This work is related to water and metal objects, the body interacts with these objects & the element(water), producing unexpected states, a poetic scene.
3.天/身體詩II Celestial/Body Poem II 
■完整影片連結/performance fim https://youtu.be/ZJ-eGk-AzZI
這個作品與塑膠繩、金屬床架、鏡子與枯枝葉,身體與這些物件的無意識關係,構築出一種身體與物件的詩意序列。
With plastic ropes, metal bed frames, mirrors and dead branches, the unconscious relationship between the body and these objects creates a poetic sequence.
4.肉體詩I / 原始衝動 Physical poem I/ Primitive impulse
■完整影片連結/performance fim https://youtu.be/hI1YBLz1b5I
我們的身體由肌肉、骨骼、內臟、表皮等構成,每個系統都有他們最原始的功能及衝動,這個作品在不特別指涉任何肉體的行為之下,看看身體姿態能夠產生什麼樣的意境。
Primitive impulse, our body is composed of muscles, bones, internal organs, epidermis, etc. Each system has its most primitive function and impulse. This work does not specifically refer to any physical behavior. See what kind of mood the body posture can produce.
5.肉體詩I I / 飛 Physical poem II / Fly
■完整影片連結/performance fim https://youtu.be/Bk3yEUC4Iu0
飛,人類一直有飛行的夢想,但似乎人的身體結構卻無法實現。因此,飛行對於肉體來說,是種詩意的夢想。
Fly, human beings have always dreamed of flying, but it seems the body structure cannot work. Therefore, flying is a poetic dream for the body.
6.冠狀病毒靈感I 可能的演化 coronavirus inspired performance I The possibility of evolution
■完整影片連結/performance fim https://youtu.be/H0oXM2Id2rI
有一種說法病毒是促使生物演化的一個媒介,在這場瘟疫裡,人類也許會在口鼻長出一層膜吧。
There is a saying that viruses are a medium that promotes biological evolution. After 2020 pandemic, humans may grow a membrane on their mouth and nose.
7.肉體詩 III : 晃動 Physical Poem III : Oscillation
■完整影片連結/performance fim https://youtu.be/NTJwrG5Q5Y4
在地球上,地心引力是許多動能的來源,晃動就是其中之一,這個作品以不同速度與方式晃動身體,與現場投影間呈現一種錯置。
Oscillation, On the earth, gravity is the source of many kinetic energy, and Oscillating is one of them. This work shakes the body at different speeds and methods, presenting a dislocation with the on-site projection.
8.自我考古02 Self-archology 02
■完整影片連結/performance fim https://youtu.be/RdqwY878FqU
"自我考古"這個系列,來自於疫情時刻在整理上千張的紙本照片,許多照片來自一個紀錄媒體沒那麼發達的年代。我問的問題是:如果世界末日發生了,這些照片最後由不認識我的人看到了,他們會怎麼挖掘?這讓我去挑選照片,然後試圖用行為藝術來考據照片背後的動機。
■自我考古02: 南洋少女2002,2002年於小鎮橋仔頭駐村的照片,當時這樣的跨性裝扮,可是在純樸的小鎮引起騷動,在黃昏市場,看過這裝扮的老人們,都在腦海中留下不可抹滅的印象。不可諱言,這張照片帶來的俗艷、暴露、性意味….讓人耐人尋味。我也用行為重新挖掘看看這照片裡還有什麼。
The "self-archaeology" series comes from the thousands of vintage photos that were sorted out at the moment of the epidemic. Many of the photos came from an era when the recording media was not so developed.The question I ask is: If the end of the world happens and these photos are finally seen by people who don't know me, how would they dig? This allowed me to select photos and then try to use performance art to speculate the motivation behind the photos.
■Title: Self-archology 02 : Southern girl project 2002
During the artist residency project of Kaohsiung Ciaotou Sugar Refinery in 2002,The transgender dress at the time caused a commotion in the simple town. In the evening market, the old people who have seen this dress are all Leave an indelible impression in their mind.  It must not be denied that the vulgarity, exposure, and sexuality brought by this photo are intriguing. I also re-dig with performance to see what else is in this photo.
9.天/身體詩V: 現場 Celestial/Body Poem V : Live
■完整影片連結/performance fim https://youtu.be/6wgHlScNrgA
難得在全球疫情嚴峻的時刻可以做現場演出,在這個演出,利用大型的裝置作品,與環境因素強烈的結合,身體與天體當下的交融,使得觀眾都可以強烈得感受到身為人的種種緣起,回到本心以天地為家。
It's rare to be able to perform live performances at a time when the global epidemic is severe. In this performance, large-scale installation works are used to strongly combine with environmental factors, and the current blending of the body and the celestial body allows the audience to strongly feel the origins of being human. ,settling down "the wandering heart"to take heaven and earth as home.